COURSE OVERVIEW
Learn the skill of value investing and portfolio building in this information-packed 3-day program! Discover the fundamentals of a company and how to read and interpret financial statements. Learn how to determine a company's true "intrinsic" value and qualitatively assess management.
The value investor believes that behind every stock there is a company that sells goods and services, and that the price of a stock is closely related to the profitability and performance of the business. They believe the key to smart investing is finding financially strong businesses and buying them at bargain prices.
Find out how to build a portfolio designed for long-term growth, how to carefully use leverage, and how to use back-testing allocations to determine the characteristics of low-risk compositions.
Prerequisites: Core Strategy Program (Core Strategy Class with XLT) or Strategic Investor Program (Strategic Investor Part 1 and 2 with XLT)
*Note: This is a one-time class offering, no retakes. Includes weekly 1hr companion sessions.
This course will teach how to analyze the fundamentals of a company by learning how to read and interpret its financial statements, how to determine its true "intrinsic" value and how to qualitatively assess its management.
The course builds on value investing and covers portfolio building designed for long term growth, back-testing asset allocations and determining the characteristics of low-risk compositions, and how to carefully use leverage.
Course Outline
DAY 1
Introduction to Value Investing

Why bother investing?
Why investing in Stocks?
Stocks are Businesses
Value Investing Principles

Why many people lose money in the Stock market?

Emotions
Short term orientation
Investing without skill/research
Relying on rumors and opinions rather than facts
High turnover

Defining Investment Goals

Why do you want to invest?
Managing expectations of returns
Minimizing losses
More focus on consistency, less on returns
Timeline of investment goals

Price versus Value

Three types of value (Relative/Absolute/Perceived)
Relation between price and value (short and long term)

Are the markets efficient?

Efficient Markets Hypothesis
Investors Irrationality
Investors Cognitive Biases

Certainty bias
Availability bias
Confirmation bias

Protection against biases
Value investors mindset

Introduction to Intrinsic Value

What is the Intrinsic Value of a Company?
Dealing with uncertainty about Intrinsic Value
Consideration related to Intrinsic Value
Book Value vs Intrinsic Value
Present Value of Futures Earnings
Discount Rate
Hard to Value Businesses

Risk in Value Investing

Inverse correlation between Risk and Reward
Relation between Risk and Price
Relation between Risk and Volatility
Relation between Risk and Uncertainty
What is Risk?

Minimizing Risk in Value Investing

Quality Companies only
Diversification
Margin of Safety

Financial Statements

What are Financial Statements
Balance Sheet
Income Statement
Cash Flow Statement
GAAP
DAY 2
Useful Financial Ratios

Earnings per Share (EPS)
Price to Earnings ratio (P/E)
Net Margin
Return on Equity (ROE)
Book Value per Share
Debt to Equity ratio
Current Ratio

Detecting Earnings Manipulation

Ways earnings can be manipulated
Ways to identify earnings manipulation

Altman Z-score
Beneish M-score

Valuation Models
Scanning for High Quality Stocks

Using the Equity Screener in Yahoo Finance

Analyzing High Quality Stocks

Quantitative analysis of different valuation ratios (Zacks.com)
Qualitative analysis

Sustainable competitive edge
Risk factors
Quality of Management

When to Buy
When to Sell

Reasons to sell companies
Combining Value Investing with Supply and Demand zones
DAY 3
Case Studies (going through the financial data of different companies to assess their quality)
Portfolio Building

Reasons for creating a portfolio
Assets that can be included in a Portfolio
Back-testing a Portfolio
Initial Portfolio
Evolution of a Portfolio

End of course
MEET THE INSTRUCTOR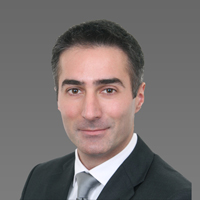 After completing college, Bachir Chaaya went on to join a leading Oil and Gas services company where he had his first exposure to the trading of Crude Oil and Natural Gas futures contracts. His first contact with Online Trading Academy was in 2008, where he immediately realized the value of the material offered and became a Mastermind Community member soon after. Bachir is a very disciplined and rule-based trader. As an instructor, he places great emphasis on psychology, risk management, and having a specific trade plan. He uses a lot of real-life examples to help simplify and better deliver the concepts of supply and demand and uses live demo trades in class to emphasize the validity of these concepts.